9 Problems Desi Girls Face While Going to the Gym
If you are a desi girl, then you have at one point or another in your life have been either cornered or publically called out for your body by some random aunty at a family wedding. "Beta, have you put on some weight? Last I saw you, (which was probably when you were a toddler) you were so slim. You should join the gym."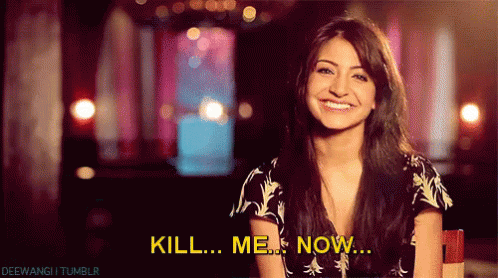 Yes, gym, a three-letter word that immediately inflicts horror and triggers a deeply uncomfortable feeling in the mind of every desi girl. The word encompasses every possible meaning of the word struggle. It is in every sense of the word, REAL.
1) Finding the Motivation


You want to get in shape, but do you really think all that effort is worth it? Lying in bed all day and watching TV sounds so much better. And how on earth does one expect us to diet when Ammi just made biryani?
2) What to Wear?

Life for every desi girl going to the gym is just a struggle between looking cute AF and being comfortable in gym clothes. Let's face it, we'd all prefer the baggy track pants but tights make your legs look in shape. Not to mention the struggle we girls face while buying the gym wear. Fabric, fit, and style –they all matters a lot when you live in a South Asian country, where you are always being judged on your dressing style!
Thanks to some brands who realized this recurrent tension of desi gym geeks like me and launched the "proper gym clothes", so that we can exercise without getting the attention of all the aunties who stare like we are here to grab their son's rishta more than actually –exercising.
3) Going out without Makeup

Makeup gives us confidence but, do we really want to wipe of everything on our face along with all that sweat? I don't think so. Waterproof mascara can only do so much.
How is everyone here already so fit?


Spotting a girl at the gym that already has the most toned body you have possibly ever laid eyes on and wondering, why does she need to work out? If I had a figure like that, I'd hog down pizza every single day.
4) Aunties at the gym

Aunties at the gym just make it so much worse. Most of them just come in to socialize with other fellow aunties and discuss last night's soap opera episode. To top it off, they judge you. You could be minding your own business but you can sense that uncomfortable feeling in the back of your head of an aunty just staring at you from a distance, judging you, your looks, your clothes, EVERYTHING.

5) Honorary Trainers
The people who clearly have no idea what they are doing but they feel like it is their moral obligation to make you feel useless by telling you what to do, are the absolute worst. I did not ask for your help. Stop being my voluntary instructor.

6)Selfie Sessions
Every day, before, during and after the workout, we see girls going to town taking selfies of themselves. You look the same. It's not like a miracle happened overnight and changed your body. Please stop with the million selfies.

7) How do I not look like a Total Amateur?
Competing with the person next to you is imminent. But how do I not make a complete fool of myself because I can't even lift this 2kg weight? Those special gym workouts for women get so annoying sometimes when you are the only one doing it.

8) Is a shower really necessary?


I guess I can take one tomorrow. I'm sure the smell isn't bad enough to suffocate anyone.
9) Unfortunate Events


If you are cursed, you may forget your headphones or your phone's battery might die. Good luck trying to mute out everything else.

Being a Desi Gym Geek girl could be much more than the hassle. However, the fitness achieved is worth these struggles. Never mind, just slip in your gym clothes and workout till you burn it all!
---
---